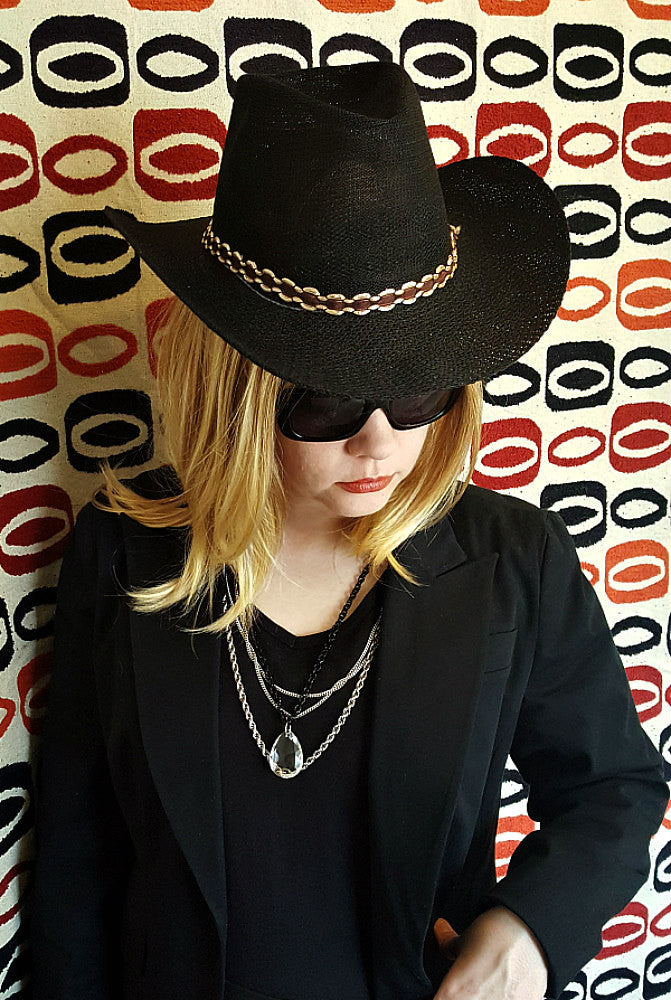 Black and White. . .Food for Thought
Simple but powerful. Artistic but realistic. So enchanting. So Colorful.
Do you enjoy the classic movies filmed in "black and white"?
What about horror movies with black blood instead of red?
"Casablanca" is one of my favorite movies filmed in "black and white".
Humphrey Bogart and Lauren Bacall made some great movies in black and white.  Read about them and their great love affair in my latest blog:  "Bold Divas of the 1930's and 1940's" You can find it at my blog (just enter title in search at top)  http://www.EARTHOCEANFIRE.blogspot.com
Photo below is Bette Davis in Black and White!
It has been said that by avoiding the superficial attraction of color you achieve what both you and the audience want which is greater attention to form.
Black and White is my inspiration, my muse! 
As an artist and a jewelry designer, when I create with "black and white" it is truly a discipline of not wandering off toward color. It is more difficult and more exciting!  I love these creations more than any of the colored ones when they are finished!
Ebony and ivory, yin and yang, night and day...Opposites? ...or Compliments?
The game of chess would not be the same without black and white. The piano would be strange without black and white keys.
The black tie event or the white tie event? The decisive Ace of Spades?
Many designers, movie directors, artists, songwriters, and jewelry designers have been lured by the mystery of black and white.  It is so Colorful!
Be sure and visit our "Silhouettes Collection" here on our website!
This is our Men's Black and White Beaded  Necklace and Bracelet Set
For sale on our men's website under the section Men's Necklace Sets.
http://www.earthoceanfirejewelry.com
Feel free to check our pinterest awesome board "Black and White. . .It is so Colorful" on our Pinterest site!   the link is:   http://www.pinterest.com/neldaaztex
I have 7 bog posts now on this women's website! If you would like to check them out, just go to home page; click on BLOG; then NEWS from the drop
down menu, then click on the PHOTO of the blog you would like to read. "Fashion Buzz Update" is the photo above. Looking at a little bit of London fashion and American fashion.
This photo is one of the London fashion styles that I really like. Read the blog for more.
on this website!
The above photo is an example of "black and white" design on the runway.
An example of fashion design in Black and White...It is so Colorful.
Our dog, Eminem, says "hang around and enjoy reading our fashion blogs! and looking at our new jewelry collections." Thank you for letting us share our thoughts on black and white with you!
P.S. Remember to follow us with your e-mail for more fashion updates. coupons, and movie blog updates. I have been sending out a new series  "Dinner and a Movie" to our followers. I send it about every 10 days. Each newsletter contains a recipe and movie suggestions!
Too much fun. You can follow our e-mail on any page of this blog.
For more fashion info:
www.Elle.com
www.Instyle.com
www.WhoWhatWear.com
www.Instyle.com
www.RealSimple.com
---