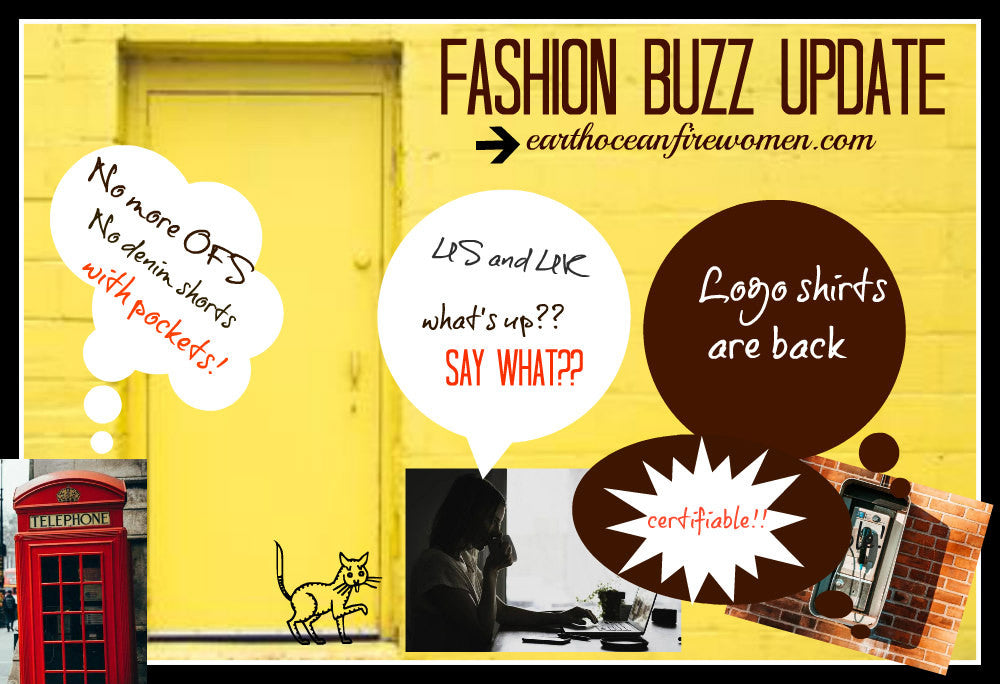 Fashion Buzz Update
="respons
When the BIG BANG of crazy fashion landed in 2017, I thought that things couldn't get wilder. But they have. Grab some coffee or tea and enjoy some of the news I found about the trends going in. . . and going out!
LOGO T-SHIRTS ARE BACK. . .
This look is great for men with a jacket or sport coat and for women! I like this one. Names on the shirt like "Gucci" and "Guess" or "Boy London" for example. Or just your choice of logos in large type. Your business name? Great idea, huh? Maybe that used to be cool--- not corny because it has come back with a vengeance.
BIRKENSTOCKS. . .
A new hippie favorite are these ugly shoes going for $800! THEY ARE TRENDING AND HOT!, HOT! HOT!

REMEMBER THE THONGS FOR POOLSIDE??
Designers are now taking the old, uncomfortable plastic thongs that we use for the beach and poolside and upgrading them with feathers, leather, and fur.
Dior, Dion Lee and Valentino are taking the thong to another level. . .not just for lounging at the pool anymore.
80'S ARE STILL GOING STRONG
This photo is Saint Lauren stressing the 80's style of Metallics which have been very popular this year!
"Moto Crossing" is big on the runways! This one is by Etro.
Dolce & Gabana is reminding us the 80's flower power is still hot!
Louis Vuitton steals my heart in this black and white grapic style.
WHAT ABOUT THE UK GIRLS?
British girls are open to many fashion trends; but they prefer some over other ones.
For example, "OFS" (off the shoulder style) ---is going out for them.

Maybe they got overloaded with it.
Below is a photo vinyl pants which are a trend in the UK.
Red Boots are hot in the UK! See photo below. I love it! Red boots and logo shirt with vinyl jacket. She rocks and seems to know how to put an outfit together!
The UK girls also prefer dresses over jeans for their denim look. (see photo below)
These photos are on Pinterest and you can see them on our "women's fashion" board on if you would like to re-pin them and read more about them.
 http://www.pinterest.com/neldaaztex
Guess what?  Yes its true. Wide legged pants are going to be everywhere this fall and skinny jeans are on the way out! Valentino, Oscar de La Renta, Solace London -- according to buyers, skinny jeans are out!!  Yeah!
Thanks for visiting us! Too hot to talk about fall...check ya later on that one!

 
Please remember to follow our e-mail. You can join us on any of our website pages. We give the latest on our movie blog and right now I am doing "Dinner and a Movie" newsletter each week. Sharing our favorite food and movies!
Visit our blog and scroll down to (home) at bottom for list to see which article you want to read. Some of the titles are "French New Wave" - "Japanese Anime"  "Dark Comedy"

http://www.earthoceanfire.blogspot.com
When you follow us with your e-mail, we automatically send you a PDF file of film noir movies for free to enjoy and add to your movie list.
FOR MORE INFORMATION ON FASHION:
www.Elle.com
www.InStyle.com
www.WhoWhatWear.com
www.RealSimple.com
Feel free to join us on our other sites:
women's site:      http://www.earthoceanfirewomen.com
men's jewelry site:    http://www.earthoceanfirejewelry.com
blog site:              http://www.earthoceanfire.blogspot.com
Etsy site:         http://www.etsy.com/shop/EARTHOCEANFIREMEN
Pinterest:         http://www.pininterest.com/neldaaztex
Twitter:            http://www.twitter.com/NeldaAZTex
---