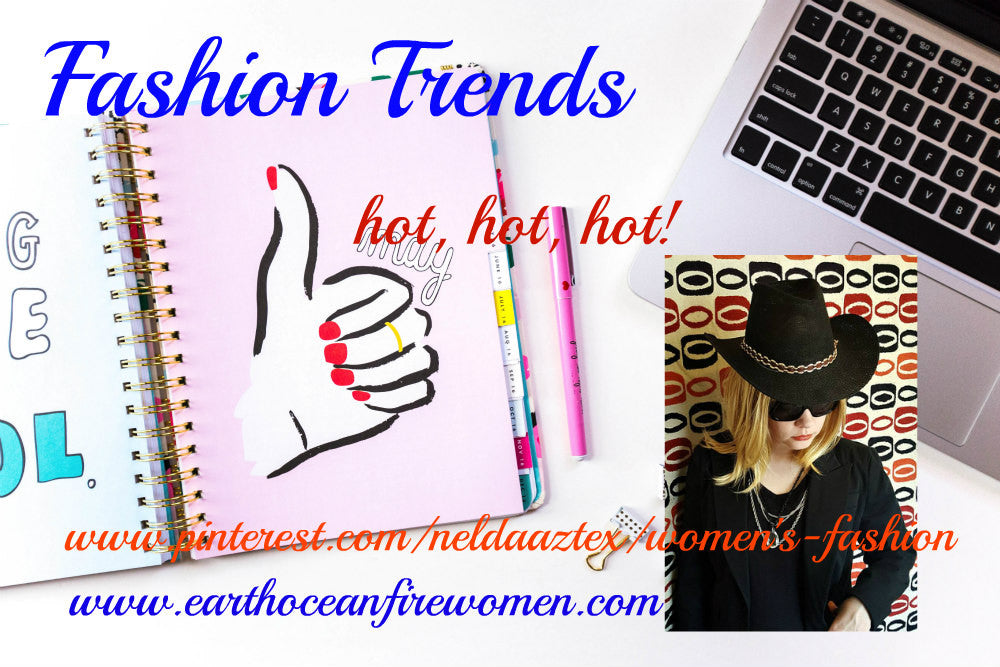 Fashion Trends For 2017
What is trending for this year?
According to the trade shows, fashion mags and other information specialists, the following items are hot!
PURSES in every size, shape and style.  Especially bucket purses! I noticed that some of the new styles are smaller. But huge bags are also in if you prefer! Like 2 or 3 feet long. In London, basket purses are trending.

Leather purses with shoulder straps are a sure win. Chain shoulder straps also rock this year. Sleek new materials and artsy shapes are on the scene to give us  the freedom to express our individual style.  Some of the eighties styles are back. . .just be sure you update them with embellishments such as flowers, new straps and get newer material when possible such as plaids.
PURPLE, PURPLE, PURPLE is in. I noticed that the new runways feature purple often for this year. Check out our pinterest board.

http://www.pinterest.com/neldaaztex/women's-fashion
NECKLACE LAYERING IS HOT!
Photo above shows some of our black and white necklaces layered with silver and black chains.
This large crystal drop and some of the other layers of necklaces are found in our "Silhouettes Collection." 
We now have gold and brass layering sections and are working on photos for the gunmetal chain necklaces!  Be on the look out for it the next few weeks! Below is our pebble chain necklace in the Layering Brass Collection.
You can finish off your outfit very quickly be adding a few layers of chains and necklaces.
Chokers are now back in a big way! So if you have a v-neck top; simply add a choker and then some of your chains and necklaces under the choker to fill in the space. Also a white button-up shirt (a piece that you need in your basic wardrobe) looks great with these layers to fill in space. 
EARRINGS for this year include tassel earrings with silver and brass plated findings, mod earrings with artsy features such as enamel or gemstones. Also pearls are in style with updated irregular shapes and designs.
  SHOES. . .

CRAYON COLORED SHOES ARE IN...one designer has a new line that looks just like crayons! Also Barbie style shoes are in....called "the mule pump"
BLOCK HEELS are still hot this year. Look great with sling shoes and sandals! Also easy on our feet.
SHOES ARE IN NEW MATERIALS NOW... such as satin heels with clip ons. satin flats and satin sling back shoes. Look for old styles updated with new materials and embellishments.

 

CRYSTALS are grabbing our attention in the fashion world. Here is one we have for sale in our "silhouette" or black and white section!
Thanks for letting us share some fashion trends! Please be sure and join our e-mail list for more fashion tips, coupons and news! Join us with your e-mail on any page of our website.
Our dog, Eminem says, "Grab a cup of jo and hang out awhile!  Visit our blogs and also peruse our new jewelry designs."
Currently, I am sending you a series called "Dinner and a Movie" with movie suggestions and a recipe. Too much fun! With each newsletter I send you dinner and a movie or two. You are here at our women's website.

         women's site:   http://www.earthoceanfirewomen.com
Our men's website is:  http://www.earthoceanfirejewelry.com
 Our Women's Fashion on pinterest is awesome. Join us!
                         http://www.pinterest.com/neldaaztex
FOR MORE FASHION NEWS:
www.Elle.com
www.WhoWhatWear.com
www.Instyle.com
www.RealSimple.com
---