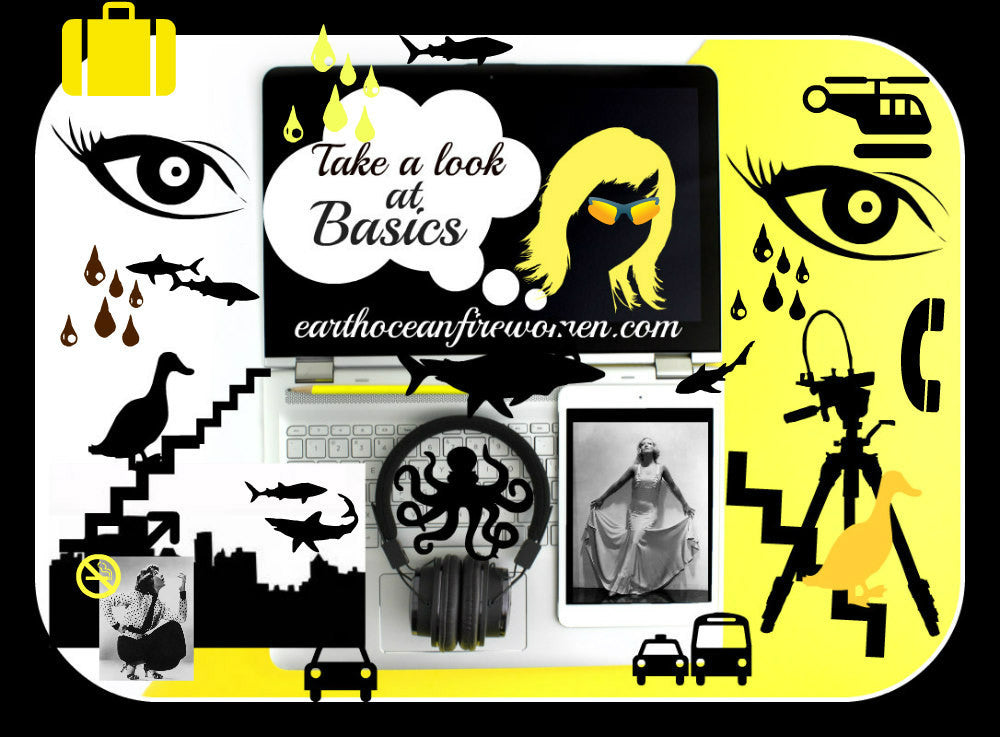 Simple Basic Wardrobe
Let's Block out the Noise. . .
           and Take a Look at Basics
With all the aggressive advertising and "in your face" fashion advice, (shown in my graphic photo above....lol) how are you supposed to quickly know what to wear?? I would like to simplify the process.
HOW ABOUT STARTING WITH A BLACK BLAZER
A black blazer is a basic piece that you can modify quickly. From work to night out with the girls. Let's take a black blazer and a black tank top and a black skirt. A blank canvas for you to style quickly! What is your favorite color? If you can't pick a color out; just use red or black and white.  Pick out a conservative necklace or scarf for your work day with office pumps.  Then. . .when the night lights come on. . .throw on some glittery or strappy shores and some jewelry bling or a long chain with a chrystal (we have this one for sale like this) in our "Silhouette Collection" Notice the black blazer, tank and skirt. The crystal just completes the look.

DENIM IS STYLING. . .BOHO is styling!

Denim is a wardrobe basic! All kinds of bohemian looks are "in" now! In this case, pull out your 60's white hippy blouse. It probably has eyelets in it or is made of thin cotton material. Add your denim blue jeans or skirt. Throw on your necklaces, earrings or a stack of bracelets and you are styling!
BOOTS, BOOTS, BOOTS
Add a good pair of leather boots to your outfit and it will anchor the outfit and give you moxi! A leather purse to match is an expensive touch too!  Start your boot collection today!
Pencil Skirt is styling!
Buy a few pencil skirts in a good fit and you will give the impression of having a very large wardrobe! Wear with different tank tops and shoes with accessories and they will never know that you only have your basic wardrobe. Scarves of different patterns and colors will compliment your solid color tops.
I think plain pencil skirts and tops would give you more freedom to have fun with accessories. However, you could use patterned tops and skirts and solid color accessories. Too much fun!
WHITE BLOUSE
A crisp, new white blouse is a must have! A professional look for an interview paired with a black skirt or a cool look with layered necklaces to fill in the top space. Remember, in the movie "Pulp Fiction", Mia and the dance scene. This white blouse was perfect just added to her pants for this dance scene. Choose from many styles and cuts on the market and pick one that fits you well!
A GOOD PAIR OF TENNIS SHOES
Living in Las Vegas and seeing the flow of tourists walking, walking, walking always makes me wonder if they are in comfortable shoes. The first time I came here I was not in comfortable shoes! Hotels that looked really close were far, far away. And when I got there it was more walking to get to my destination. So have a bag with your walking shoes in it on hand for every situation.
Thank you for letting us share some of our basic tips with you!
Please join our mailing list. You can sign up with your e-mail on every page of our website. Currently, I am sending out "Dinner and a Movie" with each newsletter about every 10 days. A recipe and one or more movie suggestions. Too much fun!

Our dog Eminem says, "Hang out here and enjoy the new blogs and new jewelry collections"
Feel free to join us on our other sites:
women's site:      http://www.earthoceanfirewomen.com
men's jewelry site:    http://www.earthoceanfirejewelry.com
blog site:              http://www.earthoceanfire.blogspot.com
Etsy site:         http://www.etsy.com/shop/EARTHOCEANFIREMEN
Pinterest:         http://www.pininterest.com/neldaaztex
Twitter:            http://www.twitter.com/NeldaAZTex
FOR MORE FASHION NEWS:
www.ELLE.com
www.Instyle.com
www.WhoWhatWear.com
---