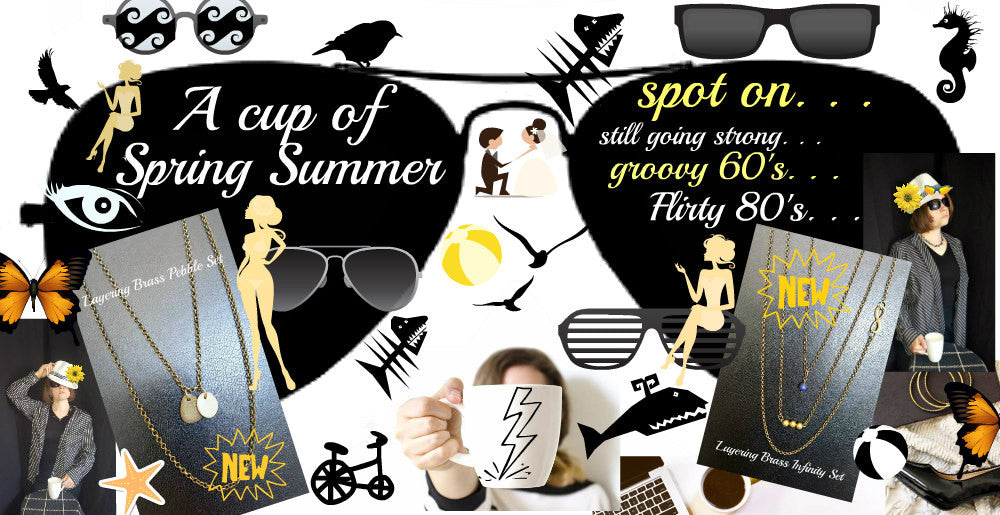 Summer 2017 Fashion
Hello! Here is a special cup of summer coffee for you! 
Yes! Everyone drinks coffee in the summer. Even desert dwellers.

This year is full of exciting, fun fashion for everyone. 
The 80's is still going strong!!

                           Cindy Lauper
Bling, legs, flowers, bold jewelry, bomber jacket blouses, more leggings and hose.  Designers are layering flowers upon flowers. A flowered top, a flowered skirt and flowers on your feet! Giant belts, big shoulders, high stilettos, boots, crazy earrings, flippy-flirty skirts. . .You are the designer! 
More color than we have seen in a decade! fuschia, scarlet, yellow,

many are combined and accented with black and white! My favorite as you already know. (Read my musing in this blog here on our site: "Black and White. . .food for thought"...just click to read more from the first page.)

Yes!

Black and White in all its glory is turned up to number 10. Bold stripes in unusual places such as striped shoes and bags.

  This photo below is Shawna dressed up in black and white modeling our crystal necklace found in the "Silhouette Collection."
Actress Lauren Becall is striped out!

Mismatched clothing??...yes all the rage. One designer Celine Phoebe, even sent out her models in mismatched shoes. Some of the ideas are really cute. Give it a try. be brave. . . .it could work. 
In the blog "Fashion Trends" for 2017,  I mentioned crayon colored Barbie style shoes are "in" this year. Well now I am seeing crayon colored purses, crayon dresses and crayon colored blouses! That one must have caught on!
On You-tube look up "Ralph Lauren Summer Fashion for 2017"
https://www.youtube.com/watch?v=zDTEVp6b18I
and you will see crayon colored dresses at the end of the video.  His style is still one of my favorites and our photos will reveal his influence! Also this video is chocked full of black and white ensembles. Be sure and check it out!
Remember ponchos, southwest jewelry and design motifs? All back with a fever!  You will also see this southwest style in black and white ensembles in the "Ralph Lauren Summer 2017" video on U-tube! Check out "Dior/Cruise 2018" for some bolero hats and western styles packed with color. Also check out our "Southwestern Style" Collection! Oversized hats and turquoise jewelry are hot!

Above is our Southwest Rope necklace in the "Southwest Collection" for men or women.
Maxi dresses are styling!
BUT THESE DAYS. . . they have a slit in them like Angelina Jolie started in that black dress, Also the top of them are styled with peek-a-boo materials and thin cotton often in a halter style. Hollywood has had the see-through thing going on for some time but they have materials covering them in some of the peek-a-boos. Here is Cher in a peek-a-boo style!
It is all up to you how much you want to reveal!! Peek-a-boo is popular now in an updated street style combined with denim and other cotton, lace or crochet sections. See our pinterest board "Women's Fashion" for samples of some of the styling outifts!    http://www.pinterest.com/neldaaztex 

Austin Powers 60's. . .new material with crazy designs such as animal prints, fruit patterns, feathers and more are popping up. Geometric patterns and accents in all colors are getting attention. Black and white is in front of every designers mind, all the while, mixing it with different styles and bright colors. 

W
W
 Black was here, was still here and now is leading designers serving up hot trends!
Get out your little black dress and other black basics out of the closet and update them by adding blocks of color or bold stripes or crayon colored accessories!
"LBD" (little black dress) came to us from CoCo Chanel in the 1920's. This style is still in every woman's basic wardrobe. . .or two of them! Trending after 70 years! Hot, hot, hot now in simple designs a staple wardrobe basic. (see my blog titled "Fashion Wardrobe Basics" listed under blog, then news, then click the blog you want to read more of. . .)

I hope you can have fun with all this new found fashion freedom and try some of these fun styles in new creative ways! 

 Thanks for letting me share with you!
Be sure and join our e-mail on our home page for fashion updates and movie
news!  Nelda
I also write a movie blog http://www.EARTHOCEANFIRE.blogspot.com
Just enter the title of the blog you would like to read at the top of blog search space
Some of the titles you might like are:
"Spaghetti Westerns" - "Hong Kong Cinema" - "Bold Divas of the 1930's and 1940's" - "Film Noir" - "Dark Comedy"
Follow us here on our home page or on our blogspot home page. Right now, I am sending you a "Dinner and a Movie" newsletter about every 10 days!
We automatically send out a list of "Film Noir" movies - both old and newer ones! and, where they are streaming!
It is in PDF form (about 7 pages of info) for you to enjoy FREE. Just add your e-mail to follow us. 
REFERENCES AND MORE INFO:
www.Elle.com
www.InStyle.com
www.WhoWhatWear.com
www.RealSimple.com
---