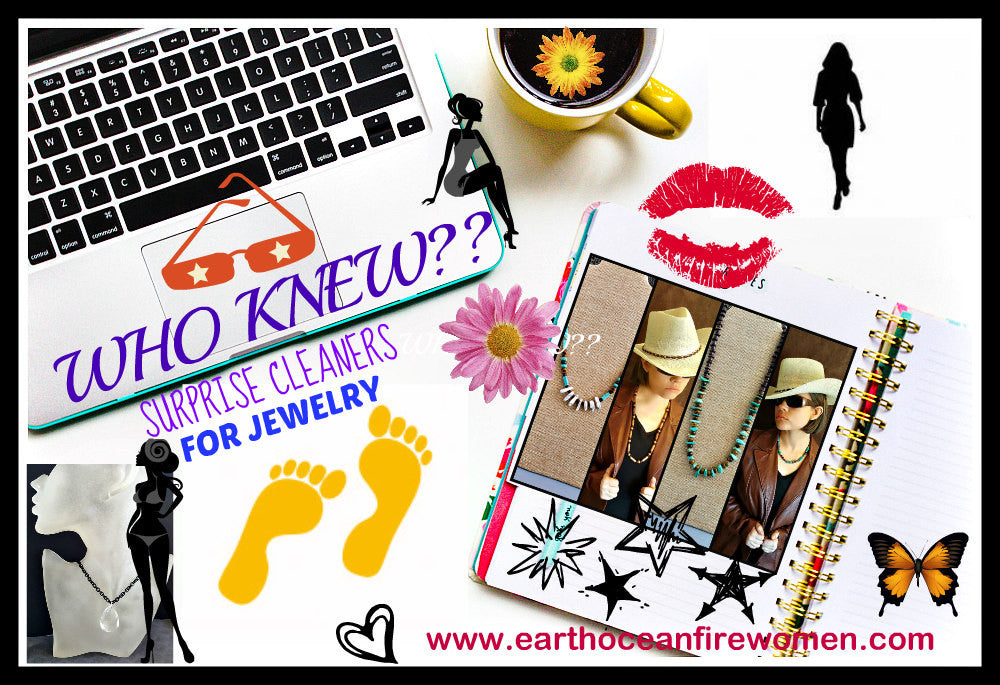 Surprising Jewelry Cleaners
Surprising Jewelry Cleaners
I found 100's of home cleaning formulas when searching the internet!
WHO KNEW?
In this article I will share some of the strange remedies for dirty jewelry.
It will be up to you to try those you like. . .I take no responsibility for the results.  hee hee. . .as I have not tried all of them myself.  Have fun! 
ALKA SELTZER. . .DROP YOUR DIRTY JEWELRY INTO A GLASS OF ALKA SELTZER FOR A FEW MINUTES. iT WILL COME OUT SHINY AGAIN
BEER. . .Get the shine back in your solid gold jewelry (minus gemstones) by pouring a bit of beer (not dark ale) into a soft cloth and rubbing over the piece.  Use a second cloth or towel to dry.

KETCHUP. . .Tarnished silver shines up with ketchup! Dip your rings, earrings and other jewelry in a container of ketchup. Don't leave in for too long; just few minutes. Take out and rinse and dry.
----------------------------------------------------------------------------------------------------------------
BAKING SODA AND HOT WATER. . .is a widely accepted way to clean all sterling silver and other silver finishes on metal.  However, you must lay a piece of aluminum foil down first or else the jewelry pieces will turn black! (I tried this without foil and turned my pieces black...lol)
So you MUST LAY FOIL DOWN first in the bottom of the bowl or pan.  The foil causes the silver oxidation to move from the silver to the foil.
Therefore the procedure is: Heat a bowl of water for one or two minutes. Add 2 tbsp. baking soda (I also add 2 tbsp. white vinegar) The mixture will start foaming! Leave jewelry for about 5 minutes and then rinse and dry with a soft cloth.

Make just enough for your cleaning. If you store vinegar and baking soda, it can fizzle and explode the container!



Some suggest leaving out the vinegar. . .Here is another quote from Readers Digest, " To remove tarnish from your silver, make a thick paste with 1/4 cup baking soda and 2 tbsps of water. Apply with a damp sponge and gently rub, rinse and buff dry. To polish gold jewelry cover with a lighter coat of soda."
--------------------------------------------------------------------------------------------------------------------
TOOTHPASTE. . .make your diamonds sparkle with toothpaste and a soft toothbrush.
CLUB SODA. . .Soak your diamonds, rubies, sapphires and emeralds in club soda to give them a nice shine. Soak them overnight.
VODKA. . .If you are in a jam, a few drops of vodka will clean glass and jewelry. Make sure no one is looking ---then, dip your napkin in your glass and clean your eye glasses.  Then you can drop your gemstones into your glass of vodka on the rocks for a few minutes.
ONLY CRYSTAL GEMS --don't try to clean other gemstones that are not crystals--only diamonds, emeralds and the like can be cleaned this way.
FOR BRASS, COPPER AND OTHER METALS . . .I look for specific cleaners such as copper cleaner, silver cleaner, etc.
IF IN QUESTION OF A MATERIAL  just use a warm water mixture of Dawn dish soap and suds it up and rinse, then pat dry. I would use this gentle soap method on gold plated and silver plated material.
. . .NOW YOU

KNOW YOU KNOW WHAT TO DO IF YOU ARE IN A PINCH!
Oh yes...I did not mention another option, electric jewelry cleaners. . .available at most department stores. 
Thank you for visiting our blog!
I also have a movie blog. got to http://www.earthoceanfire.blogspot.com
Scroll to "home" at the bottom of the first page and click it.
A list of about 15 blogs will come up. click on the one you would like to read.
Photo above is Lauren Bacall .

http://www.earthoceanfire.blogspot.com

I am sending out a newsletter called "Dinner and a Movie" Too much fun. I send it out about every 10 days or so. Join us now so you can collect recipes to try over the holidays! There are forms to follow us on every page of our website.
For more information on household subjects and cleaning here are some great links:
Real Simple                       http://www.realsimple.com
Good Housekeeping        http://goodhousekeeping.com
Readers Digest                 http://www.rd.com
Fire Mountain Gems        http://www.firemountaingems.com
---